On June 8, the wildly improbable sequel Ocean's 8 hits theaters, and we're giddy like a safecracker the night before a heist. The film follows Debbie Ocean who, with the help of a handful of talented friends, tries to pull off the heist of the century. That's a serious ambition, given that her brother Danny Ocean has already pulled off a handful of massive robberies in the Oceans's Eleven series.
Despite connections to the popular Oceans franchise, Oceans 8 will be something quite different. The characters from the previous movies won't return, but there's an incredible new cast: Sandra Bullock, Cate Blanchett, Anne Hathaway, Mindy Kaling, Sarah Paulson, Awkwafina, Rihanna, Helena Bonham Carter, Richard Armitage, and James Corden.
We're just wondering why has it taken so long to see another Oceans movie.
How Ocean's 8 Came To Pass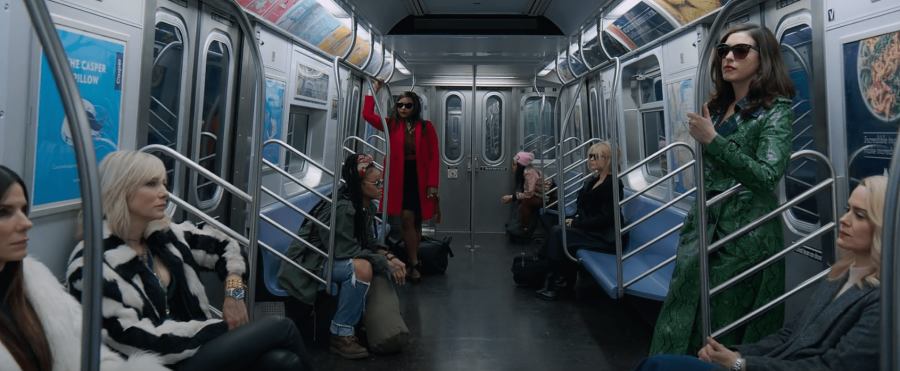 Ocean's Eleven, a remake of '60s classic rat-pack film Ocean 11, was released in 2001. Sporting Hollywood royalty like George Clooney, Matt Damon and Brad Pitt, it's no surprise that people fell in love with the film, and that it performed well enough for producer/director Steven Soderbergh to get license for a sequel. Ocean's Twelve followed in 2004, and the final installment Ocean's Thirteen was released in 2007.
While there had been rumblings of a fourth film in the franchise, director Steven Soderbergh confirmed in 2007 that there were no plans for an Ocean's Fourteen. Speaking at the Edinburgh Film Festival, Soderbergh stated that Clooney wanted to "go out strong" with the third film. Furthermore, the death of Bernie Mac in 2008 made it less likely a sequel would ever materialize. It seemed that the Ocean's franchise was well and truly over. The fact that Soderbergh had pulled back from making theatrical features didn't help.
In 2014, rumors began circulating that a new film was in the works with a primarily female cast. By 2015, Sandra Bullock's name had been attached to the project. Helena Bonham Carter, Cate Blanchett and Mindy Kaling soon joined the cast, and in 2016 Anne Hathaway, Sarah Paulson, Rihanna, Awkwafina all closed deals to star in the film. Talk about a star-studded lineup!
Ocean's 8 serves as a spin-off to the popular franchise, rather than a direct continuation. Instead of following Danny Ocean's story, the heist comedy focuses on Danny's estranged sister, Debbie. Bullock plays Debbie, who orchestrates a heist at New York City's Met Gala. Once she gets her friends involved, Debbie's plan starts to become a reality.
Those friends include Cate Blanchett as Lou, Debbie's sharp-minded partner, and Sarah Paulson as Debbie's retired former partner, who has moved out to the suburbs. Mindy Kaling, Awkwafina, Rihanna and Helena Bonham Carter play experts who are recruited into the deal, and Anne Hathaway is the target of their heist – who, if previous Ocean's plot tendencies hold true, may end up being part of the crew by the end.
It's been eleven years since the last Oceans movie hit theaters, and we're ready to reacquaint ourselves with the popular franchise. With a wonderful cast and an exciting storyline, Ocean's 8 promises to be something special, and we're beyond excited to see it.
Ocean's 8 hits theaters on June 8.