Now that AVENGERS: ENDGAME has come and gone, Tom Holland's Peter Parker is free to get back to being your friendly neighborhood Spider-Man … or so he thinks. In July, SPIDER-MAN: FAR FROM HOME sends Peter Parker and his high school friends on a class trip to Europe. What should be a relaxing vacation following the stressful events of ENDGAME quickly turns into another action-packed mission for Peter when he encounters a newcomer to the superhero scene.
Jake Gyllenhaal plays Mysterio, who has a checkered comic book past, but may be a hero this time out. We've already gotten a sneak peek at this mysterious new character in the first trailers for SPIDER-MAN: FAR FROM HOME, but let's take a closer look at Mysterio and the role he'll play in the upcoming sequel.
The Marvelous Mysterio
Fans of Marvel's Spider-Man comic books will undoubtedly recognize Mysterio as a longtime enemy of Peter Parker's superhero alter-ego. Mysterio was created by the late Stan Lee and Steve Ditko and first introduced in a 1964 issue of "The Amazing Spider-Man." Over the decades, several people have taken up the Mysterio persona, but Quentin Beck was the first — and that's the character Gyllenhaal is playing in FAR FROM HOME.
In the comics, Quentin Beck is an exceptionally skilled Hollywood special effects artist and stuntman who has dreams of becoming a major star. Unfortunately, that doesn't work out, and Quentin soon finds his career hitting a dead end. That's when he decides to use his skills to become a criminal. At one point early on, the Tinkerer (aka Phineas Mason, played in SPIDER-MAN: HOMECOMING by Michael Chernus) hires Quentin to go undercover as an extraterrestrial to acquire military secrets. In recent years, Mysterio has crossed over into alternate universes — something that comes into play in FAR FROM HOME.
Mysterio Makes His Movie Debut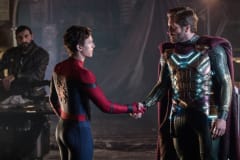 SPIDER-MAN: FAR FROM HOME marks the film debut of Mysterio, played by acclaimed actor Jake Gyllenhaal. As seen in the trailers, this version of Quentin Beck is first encountered by Nick Fury (Samuel L. Jackson) and Agent Maria Hill (Cobie Smulders) in Europe. Quentin claims to be Mysterio, a superhero from an alternate version of Earth. And that is entirely possible, following the events in the third act of AVENGERS: ENDGAME.
There's also a new villainous threat to contend with. The Elementals are extraterrestrial, incredibly powerful beings who once ruled over Earth, at least in the comics. In this movie, they could have a different backstory. Nick Fury recruits Peter Parker to join forces with Mysterio, whose abilities and knowledge may be the key to defeating the Elementals. But is Mysterio really from another universe? Is he actually a superhero? Or is he a villainous master of disguise and illusions, like his comic book counterpart? We'll have to wait until July to find out.
On Vacation With New and Returning Stars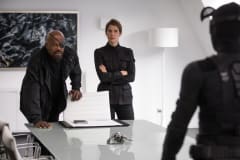 Joining Tom Holland for the upcoming sequel are returning SPIDER-MAN stars Zendaya as MJ; Jacob Batalon as Peter's best friend, Ned Leeds; Marisa Tomei as Aunt May Parker; Angourie Rice as Betty Brant; and Tony Revolori as Flash Thompson. Martin Starr returns to play Peter's teacher, Mr. Harrington, and Jon Favreau shows up again as Happy Hogan, the former head of Stark Industries security and bodyguard and personal driver for Tony Stark. What is Happy's life like now, in the wake of ENDGAME?
As a bonus, Samuel L. Jackson and Cobie Smulders will reprise their roles as Nick Fury and Maria Hill from the Marvel Cinematic Universe.
SPIDER-MAN: FAR FROM HOME opens on July 2.