Marvel fans made a big deal when it was recently revealed, in a trailer for SPIDER-MAN: FAR FROM HOME, that a multiverse exists. And from this multiverse emerged the enigmatic Mysterio (Jake Gyllenhaal), a hero on his alternate Earth who has come here to combat the Elementals.
But this isn't the first time that the multiverse has been mentioned in the MCU. In fact, one can go back a few years, to the DOCTOR STRANGE origin story, to hear the first mention of it.
Marvel Studios President Kevin Feige sat down with CinemaBlend at the SPIDER-MAN: FAR FROM HOME press junket in London and opened up about the introduction of the multiverse into MCU storytelling. But Feige explained that the idea has been around for a while.
"Well, the Ancient One mentions the multiverse in DOCTOR STRANGE, when she's taking him on that mind trip where she touches his head and she goes — she discusses the multiverse and the various planes and dimensions and realms there," Feige said. "So, we've mentioned it before. We've established it before. And (we) certainly have plans to explore it more."
Sure enough: The Ancient One asks Stephen Strange, "Who are you in this vast multiverse, Mr. Strange?" in this mind-blowing scene from DOCTOR STRANGE.
So technically, Kevin Feige is correct, and the multiverse has been a term that's been alive and in play in the MCU for years now. Mysterio may be the first character on screen in an MCU movie to embrace it. But as Feige says, the studio has plans to continue to explore it in future Marvel movies.
The multiverse was made very popular in the Marvel Comics stories, creating alternate versions of our worlds where other characters exist and fight crime. The concept was carried over to the mainstream in movie theatres, however, when the animated SPIDER-MAN: INTO THE SPIDER-VERSE introduced Miles Morales (Shameik Moore) to various versions of the wall-crawler from numerous different realms.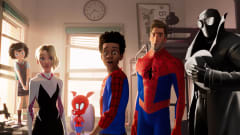 And now the multiverse is back in play in the live-action stories of the MCU, rekindled by the appearance of Quentin Beck, aka Mysterio, and played by Jake Gyllenhaal in SPIDER-MAN: FAR FROM HOME.
In the upcoming sequel, Spidey (Tom Holland) just wants to take a vacation with his high school class, traveling to Europe where he hopes to win the heart of MJ (Zendaya). But Nick Fury (Samuel L. Jackson) has plans for the hero, as he needs help forming a team to combat these Elemental creatures.
SPIDER-MAN: FAR FROM HOME swings into theatres on July 2, and tickets are on sale as we speak. Have you snagged yours yet?