Beefy, Cheesy, Bacony
We took classic mac & cheese and made it even more savory and delicious by adding ground beef and crispy bacon pieces.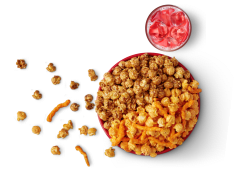 Gourmet Just Got Popping
Enjoy our delicious gourmet cheddar or salted caramel popcorn now at AMC! Order a Gourmet Duo for a blended savory-sweet treat

Small Size, Bold Taste
Snack on these crispy mini tacos stuffed with spicy chicken and served with cool Ranch dressing.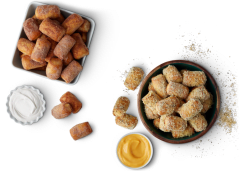 Share the Fun
Share awesomely great taste with these soft, golden, pretzel bites served warm and available in: sweet Cinnamon-Sugar, cheesy Parmesan Garlic or lightly Salted!

Forget the Fork
Your favorite side just became finger food, with delicious bites of creamy mac and cheese breaded and fried to tasty perfection.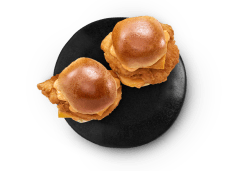 Slide into Something Tasty
Satisfy your savory craving with a pair of crispy chicken sliders topped with cheese and a Sriracha Mayo.

Stone-Fired Satisfaction
Take your taste buds to Italy with our Italian inspired, deliciously thin and crispy flatbread pizzas! Available in decadent 4-Cheese and meaty Pepperoni.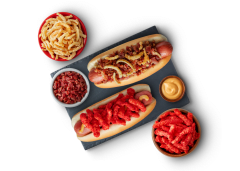 Build It Your Way
Load up an all-beef hot dog with two of your favorite toppings: chili, shredded cheese, crispy onions, Sriracha mayo, spicy brown mustard, sauerkraut, Flamin' Hot Cheetos or bacon pieces.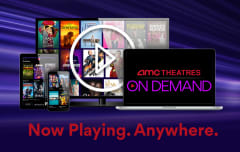 AMC THEATRES ON DEMAND
Watch Movies Right Now
There are thousands of movies ready to rent or buy now on AMC Theatres® On Demand! Enjoy them at home anytime on your favorite devices.